BENEATH THE SPIN • ERIC L. WATTREE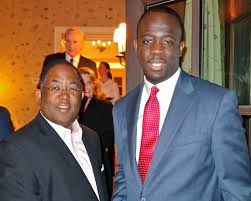 Mark Ridley-Thomas, Alex Johnson
Three of the most tenaciously destructive problems endemic to the Black community is political apathy, a lack of education, and the self-serving corruption of some of our politicians and so-called "community leaders," and the race for District 1 of the Los Angeles Unified School District has revealed conclusively that County Supervisor Mark Ridley-Thomas and his new young crony, Alex Johnson, are the resulting embodiment of all three of those problems.
.
Subsequent to the sudden and untimely passing of longtime LAUSD board member, Marguerite Poindexter LaMotte, a large coalition of parents, clergy, politicians, local activists, and groups within the education community came together to support the interim appointment of George McKenna to complete Ms. LaMotte's term of office. That's how such matters have been routinely handled in the past. 
.
McKenna is a lifelong educator with an illustrious background, a proven track record, and is highly respected - in fact, esteemed - within the educational community. He became nationally renowned after being portrayed by Denzel Washington in the movie, "Hard Lessons," chronicling McKenna's stunning turnaround of George Washington Preparatory High School in South Central Los Angeles. McKenna enjoys the endorsement of the Democratic Party, the United Teachers Los Angeles, the LA Times, La Opinión, LA Sentinel and over 100 leaders in the education, ecumenical, political, civic community, and now, 4 of 5 of his former June 3rd opponents.
.
Yet, in spite of all of the support that George McKenna enjoys from within the community and the fact that by forcing a special election the community was left without representation for months and it cost the district over $2.5 million that could have been going toward our young people's education,  Mark Ridley-Thomas completely ignored all of that, used all of the political influence that he could muster to force a special election. And why did he thumb his nose at the best interest of the community? - so he could promote the candidacy of a political crony, Alex Johnson, one of his deputies on educational affairs. It was a clear case of giving the political consolidation of power priority over the best interest of the people.  In short, cronyism - or the appointment of friends and associates to positions of authority without proper regard for their qualifications (or lack thereof), or the interest of the people.
.
Of course, Johnson/Thomas supporters might ask, how do we know that Supervisor Ridley-Thomas doesn't simply feel that Alex Johnson is the better man? That's a very simple question to answer - the tone of the Johnson/Thomas campaign.
.
Whenever you have a candidate whose primary concern is to better the plight and conditions of the people, that's what their campaign will focus on. Such a politician will generally come to the people with an agenda, tell the people what he or she hopes to accomplish, and then begin to explain why they think they're the better candidate. But that certainly doesn't describe the Johnson/Thomas campaign. They came out slinging mud and feces everywhere.
.
Alex Johnson and Ridley-Thomas have taken a page right of the Republican play book. They're using the EXACT same tactics against George McKenna as the GOP has been using against Obama, and that fact alone should tell us that these two individuals are bad news. They have no sense of integrity. They hope to benefit from anger, animosity, and turmoil rather than competence. That accounts for why they're slinging mud instead of an agenda, because they clearly don't have a presentable agenda to present. 
.
They don't want that seat because they want to help the people. They couldn't care less about the people. They want that office - or ANY office - because it helps to consolidate the PERSONAL political power of Mark Ridley-Thomas. Period.   
.
Ridley-Thomas' behavior seems to indicate that he sees himself as the big city version of "Boss Hog"(no pun intended) - and this sort of thing has been going on for quite some time with him. In the 2010 article, "L.A. County supervisor gives his side of the story," that appeared in the Los Angeles Times, Steve Lopez writes:
.
"L.A. County Supervisor Mark Ridley-Thomas greeted me warmly Monday afternoon, even though I'd come to hear him explain why he used $25,000 in taxpayer money to buy a place in "Who's Who in Black Los Angeles." I wanted to ask him whether his decision to buy the spread had anything to do with the fact that the book's associate publisher has made campaign donations to the supervisor and is a longtime ally.
.
"But first Ridley-Thomas wanted to give me a tour of his office, which he had intended to refurbish at a cost of $707,000 — until the project made the news . . ."
.
In the same article, Lopez gives Ridley-Thomas' explanation as to why he paid $25,000 of the taxpayer's money to be featured in "Who's Who in Black Los Angeles":
.
" Ridley-Thomas told me it was worth honoring those county employees because many in the African American community 'don't know' there are black people 'in positions of leadership' in the county. I thought he must be kidding, but he said he wasn't. I suggested that it might be cheaper to use his newsletter to break the news, rather than "Who's Who," especially since I don't think anybody's buying the book unless they're featured in it.
.
"I wasn't all that surprised to learn that the associate publisher of "Who's Who," Anthony Samad, happens to be a longtime friend of Ridley-Thomas. But I was a little rattled to discover when I looked up campaign contributions that Samad donated $1,250 to Ridley-Thomas' campaign in 2007 and 2008. And that's not all. I also laid my hands on a document showing that Samad had been awarded a $24,999 consulting contract in 2002 by the city of Los Angeles, at the behest of then-Councilman Ridley-Thomas."
.
Now, I suppose if one is a logical contortionist, one could say that by funneling that money to Anthony Samad, it COULD be considered funneling it back into the community. But I'm not a contortionist, so it looks to me like cronyism - especially considering the fact that Samad is one of Ridley-Thomas' longtime friends and political contributors. But I'm not going to past judgment on whether this kind of palm-greasing is improper or not. While it looks highly suspect to me, I'm going to leave it to the reader to make that determination for themselves.
.
But it does make one thing irrefutably clear, however - Mark Ridley-Thomas feels absolutely no reluctance in using his office to promote his own interest and benefit friends, and that's exactly what he's doing in this race for District 1 of the LAUSD. But this time it's a little different from greasing a friend's palm. This time around, by supporting his friend, the eminently inexperienced Alex Johnson over the renowned George McKenna, he's clearly demonstrating that his loyalty to self, friends, and cronies is given a much higher priority than you and your children. 
.
So the bottom line is this - with all the adversity that we're already forced to face in the Black community, can we afford to also have politicians in office who place their needs before our own?  I don't think so, and we need to keep that thought in mind, not only for this election, but also when Mark Ridley-Thomas faces the voters again.  When a politician becomes so comfortable that he begins to think HE'S runnin' things, it's time to get rid of him.