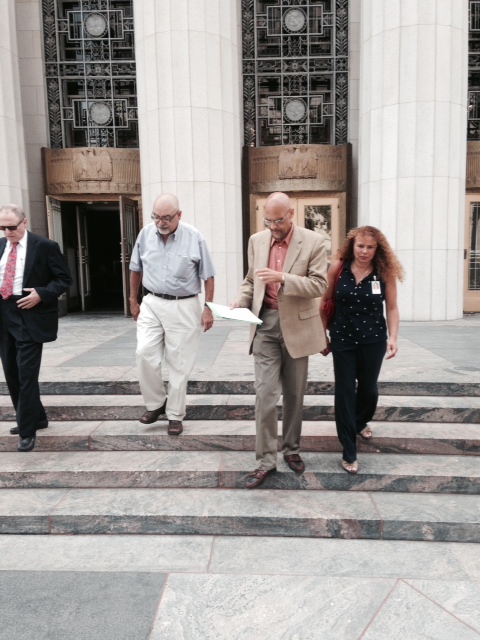 Blasts CHP For Criminalizing CHP Beating Victim
Los Angeles Urban Policy Roundtable President Earl Ofari Hutchinson on Tuesday July 29 called on Attorney General Eric Holder to fast track a probe into the beating of Marlene Pinnock by a California Highway Parol officer July 1. Hutchinson filed a formal complaint for the probe at the U.S. Courts Bldg. with the Department of Justice's Criminal Division of the Civil Rights Division. The probe request is based on a possible pattern and practice of prior misconduct, the past inability of law enforcement agencies that investigate themselves on the use of excessive force to reach a fair and impartial decision when it comes to imposing severe punishment on their officers that use excessive force, and the clear violation of civil rights of the victim, Marlene Pinnock. Steven Lerman, Attorney for Rodney King also called for the probe at the press conference.
Hutchinson also blasted the CHP's leaks to the press of information about the beating of Pinnock which tends to blame her for the beating, in short to criminalize her. "This selective leaking appears to be both an attempt by the CHP to exonerate the officer of any wrongdoing before the conclusion of the investigation and violate the public promise made by CHP Commissioner Joseph Farrow of a fair and impartial investigation," say Hutchinson,"This is  precisely why we need a totally separate probe by the Justice Department."