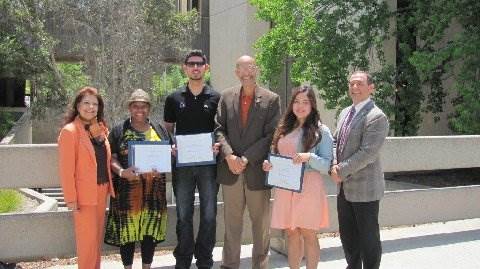 The Los Angeles Urban Policy Roundtable announced its special Impact Awards on Friday, June 14. The awards are part of its Young Scholars award program. The awards were given to three students in the International Study Abroad program at West Los Angeles College. The program was initiated by Dr. Don Culton and administered by Professor Josefina Culton and the student participants learn and enrich their Spanish studies at a university in Spain. The students chosen for the awards will use their Spanish studies to enrich the life and culture of their communities and to further promote inter-ethnic relationships in Los Angeles. The Impact Awards program supports organizations and individuals working in Los Angeles County and other cities most underserved communities. Wells Fargo Foundation is a major partner with the Los Angeles Urban Policy Roundtable's Impact Micro Award Program.
"School budget cutbacks, and the elimination of vital school programs make it even more imperative that we assist teachers and students with funding to reimburse them for their classroom and project expenses," says Los Angeles Urban Policy Roundtable President Earl Ofari Hutchinson, "The Impact Micro Award Program aims to fill that chronic education need."
The Los Angeles Urban Policy Roundtable will select its next Impact Micro Awards recipients in July.
Information 909-214-5844