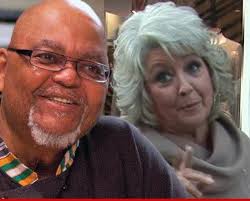 Political Analyst and Hutchinson Report Town Hall of the Air Host Earl Ofari Hutchinson on June 22, 2013, on the  Hutchinson Report Town Hall of the Air at 12:00 PM PST,  3:00 PM EST, on KPFK Radio (90.7 FM) streamed globally on kpfk.org.will examine the controversy surrounding Paula Deen's use of the N word, her apology and the Food Networks firing of Deen. The Hutchinson Report Townhall will challenge the Food Network to tell why Deen was fired in spite of her public apology and the fact that the racial slurs she used happened in years past.
The Hutchinson report has formally invited Deen and Bob Tuschman,  General Manager/Senior Vice President for the Food Network to guest on the show.
 "Deen publicly apologized for her past racial slurs and her apology could and should have served as a teaching moment for the nation on race,"  says Hutchinson. "But instead she was penalized for her candor. The Food Network must explain their actions and listeners will weigh in on it as well."