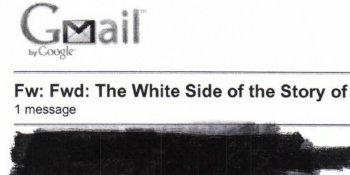 Los Angeles Urban Policy Roundtable President Earl Ofari Hutchinson and other civil rights leaders on Sunday, May 1, called L.A. County Sheriff Jim McDonnell's pledge to conduct random email audits of L.A. County Sheriff's employees and deputies emails a good first step toward insuring against racially biased policing. The step comes in the wake of the Los Angeles Urban Policy Roundtable's call for both a full email audit of all L.A. County Sheriff Deputies and employees emails and the resignation of L.A. County Sheriff Department Chief of Staff Tom Angel.
But Angel's resignation and a "random" email audit is not enough. Sheriff's officials must spell out specific timetables for the audits, what employees will be audited, and what the results of the audits are. The goal must be transparency and accountability of a sensitive public agency.
The Los Angeles Urban Policy Roundtable will monitor the L.A. County Sheriff's Department pace and progress of the email audit. They will call for a timely review and disclosure of the results of the audit to help identify employees who demean and disparage minorities and Muslims. These are public employees who work in a highly sensitive public agency that has a highly sensitive interaction with minority communities in L.A. County. Racist emails undermine public confidence in law enforcement and heighten suspicion that law enforcement officers engage in racially biased policing. Other police departments including San Francisco and Ferguson, Missouri have conducted similar audits after discovering racist emails by deputies. The offenders were suspended or fired.
 "A full email audit is absolutely essential to ensure that employees do not bring their racial biases into policing in L.A. County," says Hutchinson, "It will also send the message that there is zero tolerance in the L.A. County Sheriff's Department for racially biased attitudes on the part of sheriff's deputies and that any demeaning of minorities and Muslims will be severely punished."