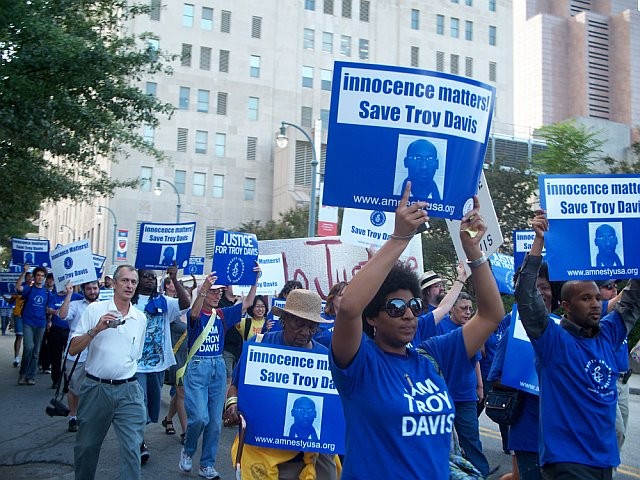 Los Angeles Urban Policy Roundtable

September 21, 2011
for Immediate Release
Contact: Earl Ofari Hutchinson
323-383-6145
Press Availability: Earl Ofari Hutchinson  323-383-6145
Civil Rights Leaders Make Emergency Phone Call Appeal to the Senior 11th Circuit District Federal Appeals Court Judges to Stop Davis Execution
 Los Angeles Urban Policy Roundtable President Earl Ofari Hutchinson and other civil rights leaders on Wednesday Morning, September 21, will make an 11th hour direct phone call appeal to Chief of the 11th Federal District Court in Atlanta, Georgia Joel F. Dubina and five other senior judges on the 11th District Federal Appeals Court to grant an emergency stay of the scheduled execution of Troy Davis. The court has jurisdiction over appeals cases in Georgia, Alabama, and Florida.
The rights leaders asked for the emergency stay to allow Davis's attorneys to file a new legal brief in the case. Federal Appeals judges have granted emergency stays of scheduled executions in a number of cases in the past to allow more time to review evidence in a capital case. L.A. Urban Policy Roundtable Political Affairs Director Pedro Baez personally called each of the judges on behalf of the civil rights leader's coalition and asked for a stay of Davis's scheduled execution.
 "We have asked the federal judges in the 11th District Court for an 11th hour stay of Davis's scheduled execution, " says Hutchinson," There is more than enough doubt about his guilt to warrant a stay for further review of the case. Davis's fate now rests squarely in the judges hands."
Here is the 11th District Court Senior Judges the Los Angeles Urban Policy Roundtable called.
Chief Judge Joel F. Dubina
Judge James C. Hill
Judge Peter T. Fay
Judge Phyllis A. Kravitch
Judge R. Lanier Anderson
Judge Emmett Ripley Cox
Eleventh Circuit Court of Appeals Clerk's Office at:
56 Forsyth St. N.W., Atlanta, Georgia 30303
(404) 335-6100