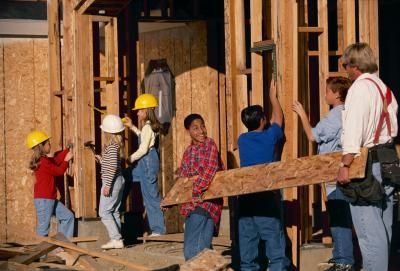 The Los Angeles Urban Policy Roundtable's expanded Teacher Impact Award, Impact Micro Award, and Building Self-Sustaining Communities Project continues to provide much needed support to organizations in Los Angeles as well as to organizations in the nation's poorest cities. The Teacher Impact Award program is a companion program that helps teachers at inner city schools in their purchase of classroom materials.  We have awarded nearly fifty  Awards to community organizations that fulfill our mission of working to build self-reliance and self-sustainability in the areas of violence prevention, at risk youth training, leadership mentoring and tutoring, financial education, health and nutrition awareness, arts and music training, college financial support, and civic engagement.
"Budget cutbacks and the on-going struggle of small community service groups and teachers for funding have made it more imperative that we help fill the funding gap to boost them in their efforts to build community sustainability in under-served communities," says Los Angeles Urban Policy Roundtable President Earl Ofari Hutchinson, "The Building Self-Sustaining Communities Project aims to further community self-reliance and independence. This is the pathway to citizen empowerment."
 The awards are made monthly and we encourage you or your organization to apply.
Contact: Debbie Washington 909-2145844   [email protected]
Los Angeles Urban Policy Roundtable Awardees
Inner City Youth Orchestra of Los Angeles
Community Services Unlimited
Southern California Cease Fire Coalition
The Neighborhood Youth Achievers
Project Cry No More
Barbara Morrison Performing Arts Academy
The Young Visionaries Youth Leadership Academy
 
RUACH Christian Community Fellowship
Global Wellness Project
Prayer & Squares Ministry
Park Hills Youth Scholarship Fund
Eso Won Books
Rodger F. Clayton Foundation
Famli, Inc.
Centro Latino for Literacy
MAZON
Korean American Historical Society (KAHS)
Youth 'N Motion Academy, Inc.
The Citizens Coalition for a Safe Community
Mollys Mutts and Meows
The Children's Dental Center of Greater Los Angeles
Angels for Sight
Friendship House Association of American Indians, Inc. of San Francisco
West Angeles COGIC Save Africa's Children
The Los Angeles Youth Orchestra
The Inner City Youth Orchestra of Los Angeles
 Pathways to Your Future in Los Angeles
Fight Against Obesity Foundation
Women Alive
Special Needs Network
Cadre; Redefining Parenting in South L.A.,
The Drew League Foundation
The Institute for Black Parenting, Inc.
Women's Leadership Project at Gardena High School, Gardena. Ca.
The PJC Foundation

Los Angeles Community High School
·        Dorsey HS PE Department
Building Self-Sustaining Communities Project
Healthy Communities, Brownsville, Texas
Casa of Cameron & Willacy Counties, Brownsville, Texas
The CASA Women's Shelter, Pine Bluff, Ark.
The Food Bank of the Rio Grande Valley, McAllen, Texas.
The Helping Hands Clinic, Morristown, Tennessee
Cease Inc., Morristown, Tennessee
·        The Literacy Center, Harlingen Texas