Financial Woes Not New For The Dodgers
Pedro Baez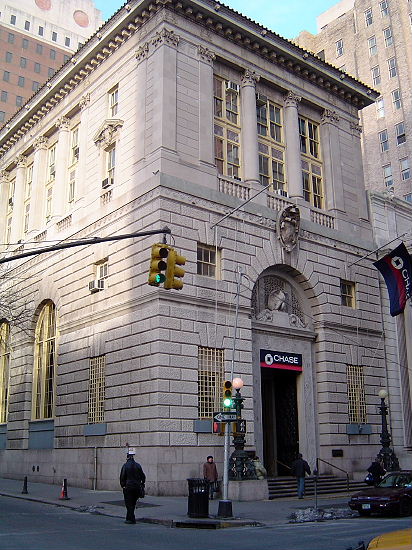 Old Brooklyn Trust Building in downtown Brooklyn, NY.
When Major League Baseball seized control of the Los Angeles Dodgers last week I was perhaps one of the few who wasn't surprised.
Baseball Commissioner Bud Selig exercised his authority under Rule 21 that specifically relates to the "Best Interests of Baseball."
Frank McCourt, the Dodgers owner said he was in compliance with Major League rules and regulations governing finances and revenues. Just a week before, McCourt went to the FOX media empire and secured a "personal loan" in order to meet payroll. By securing the loan as personal, McCourt didn't have to seek the approval of MLB which if he had would have gone through regular channels, McCourt would then have lost the franchise immediately.
When Frank & Jamie McCourt bought the Dodgers from FOX, there was disgruntlement and anger from fans. The McCourt's are from Boston, not Los Angeles. Even before the umpire yelled "Play Ball" there was talk and speculation about McCourt's ability to pay expenses.
Fans stated calling Frank McCourt "McBankrupt."
At present the Dodgers are indebted to the tune of 459 million bucks. In essence the commissioner taking control of the Dodger's is similar to a bankruptcy judge appointing a referee to take over a failed venture.
Rumor has it that billionaire Eli Broad will buy the team and turn it over to Peter O'Malley (son of former owner Walter O'Malley, and himself a former owner) to run the day to day business of the ball club. Fans would welcome that. What is also well known and hasn't been hidden is that Bud Selig had never wanted the McCourt's to get into baseball in the first place, let alone owning the Dodgers, a storied franchise of MLB.
What hasn't been discussed is this isn't the first time the Dodgers have had financial problems.
When the Dodgers played in Brooklyn, the team's mortgage was held by the Brooklyn Trust Company. George McLaughlin, the president of the bank was under pressure to call in the loan due to repeated late payments. He refused due to being a fan of the ball club and kept them afloat despite repeated calls by federal bank examiners to call in the loan. By 1937, with the Dodgers near bankruptcy, they made a bold move. They hired Leland Stanford "Larry" MacPhail. MacPhail came in, got $200,000 from Brooklyn Trust, renovated Ebbets Field and installed lights. The first night game on June 15, 1938 is historical because Johnny Vander Meer threw his second consecutive no hitter this time against the Dodgers. McLaughlin was considered a hard, tough, and conservative banker, however he couldn't say no to MacPhail.
All this hasn't been lost on McCourt. He probably wishes that he could have a McLaughlin who wouldn't say no to him when he puts his hand out.
(It was announced yesterday by Commissioner Bud Selig that former Texas Ranger president Tom Schieffer has been tapped as the new CEO of the Dodgers. In essence a receiver.)