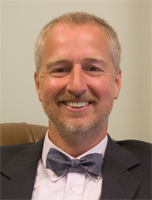 In an exclusive interview on The Hutchinson Report Newsmaker Hour with host Earl Ofari Hutchinson on KTYM 1460 AM Los Angeles on June 10, Paul Hodgson, Managing Director and Chief Communications Officer of Governance Metrics International
Transcription by Annette Lockett, McAl Typing Service E-Mail ptnana@pacbell.net * http://McALTypingService.com
EOH:   In your opinion, are executives at the major corporations grossly overpaid?
PH:       It's impossible to generalize in that way.  There are certainly instances of overpayment, but it is more like payments for poor performance, and any kind of payment for poor performance is overpayment.
EOH:   Has the "Say on Pay" had an impact of reigning in Boards of Directors on the amount of pay and stock options?
PH:       It's too early to know whether it has had an impact.  This is the first full year that this has been in place at all companies rather than just a handful.  There have been a number of negative votes against companies where a threat of a negative vote has forced the hands of companies to change policies.  If you consider the number of negative votes in other countries, we are talking about a handful over the last 7 to 8 years.  The U.S. has exceeded the rest of the world in terms of shareholder dissatisfaction and has managed to do it in a single year.  Occidental Petroleum was one of the first to get a negative vote last year.  They sidestepped the issue by making Irani the Chairman and appointing a new CEO whose compensation is less generous.  In two companies, one in California, action was taken swiftly when there looked like there might be a negative vote, Disney and General Electric.  At Disney, shareholders felt that incentives were too easily earned and "Golden Parachutes" to be potentially awarded were excessive.  Disney took action and reduced the amount that could be earned as severance payment for all executives.  That is a direct result of "Say and Pay".  GE had awarded performance restricted stocks in the past where you can earn this amount of shares but you have to hit these performance targets in a certain amount of time.  They switched to stock options, but the share holders said this was a backwards move.  GE listened and applied the performance conditions to the stock options.  Over the next 6 to 8 months we will see what the other companies with negative votes will do.
EOH:   Do you think the Dodd-Frank Reform Act will stand and make corporations pay attention to what they pay their CEO's?
PH:       It's being vigorously challenged by corporations and representatives.  Sometimes you can have sympathy with their objections, because it is going to be a difficult figure to calculate, particularly if you have offshore employees, contract employees, etc.  The provision in Dodd-Frank is vaguely worded, but the senator that introduced it said it meant everybody.  On the other hand, you would expect corporations to know how much they are paying their employees, regardless.  There is vigorous debate in the SEC, but the bill has been passed and signed into law.  The SEC has been asked to write the law and come up with a process how this figure can be disclosed.  It will cause some companies major upset in the public image if that disparity is very wide.  30 years ago the difference between CEO and the average worker was 30/40 times.  Now it is 470/370 times.
EOH:   Is there such a thing as "Corporate Democracy"?
PH:       I think the introduction of "Say on Pay" is a huge step forward in introducing the concept of democracy to corporations.  It gives shareholders a direct vote to approve or disapprove of executive compensation.  There are also a number of other moves which gives shareholders a clearer way of voicing discontent.  A few years ago a director only had to receive one vote to be elected to the board.  The larger companies have introduced the concept of electoral democracy so that directors have to receive a majority of votes to be elected.  If they don't, they are encouraged to tender their resignation. 
EOH:   These decisions are being challenged and everything seems to be in flux at this point.
PH:       The proxy access rule that would allow shareholders to nominate their own directors has been blocked by a law suit from the Chamber of Commerce and the Business Round Table.  During the Dodd-Frank debate there was a huge amount of corporate objections to this rule.  It's difficult to understand where the fear of that rule comes from on the corporate side.
EOH:   "Say on Pay" – do you think that it could be an opening step to becoming binding?
PH:       I think in the foreseeable future we'll see a non-binding vote.  In some European countries it is a binding vote already.  In Australia, if you get a negative vote two years running the board has to resign.  Here we can only speculate about it becoming a binding vote if companies continue to ignore the majority of the shareholders.